Let's flex our muscles and show the world what we can do as a group of sewists on a mission. Once again, it's time to use our superpower of sewing to make dresses for underprivileged girls. 
Last year we came close to dressing 900 girls. This time, let's try and crush that number and sew over 1,000 dresses!
What is Project Dress A Girl?
Project Dress A Girl is a charity event during the month of September where we make and donate dresses to Dress A Girl Around the World International. I created this epic sewing event to do good in this world, and it is driven by the sewing community on YouTube. YouTubers share details about the dresses they've made, fun tutorials, pattern resources, and information on how anyone can get involved.
Catch live dress unboxings on Sundays starting September 11 and an in-person event at Three Little Birds Sewing Co on September 17 starting at 1 p.m. Check the calendar below for all the events and how you can get involved.
Beautiful dresses that are ready to be donated can be found on Instagram using #ProjectDressAGirl2022
This Year's Special Dress Patterns
Jree Desiree Girl's Allison Tent Dress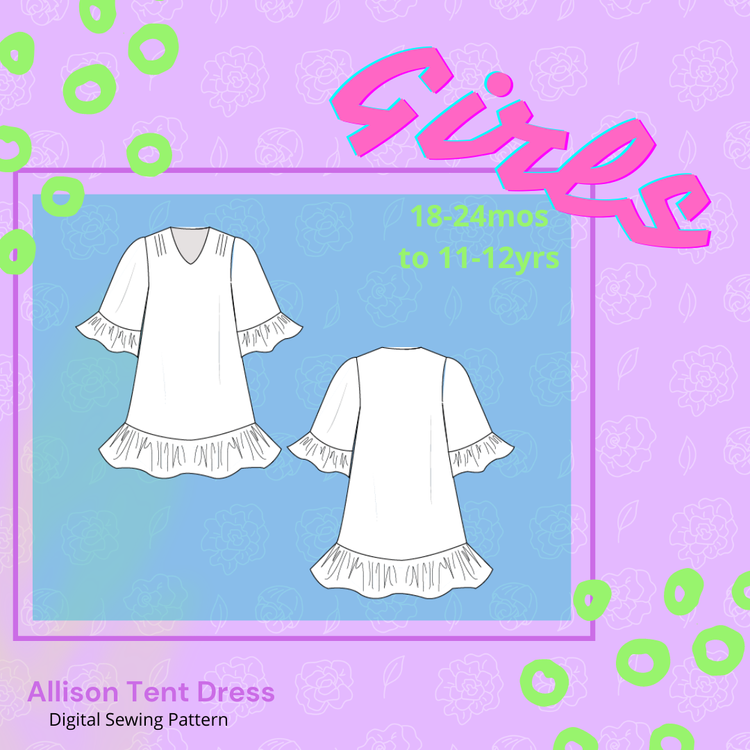 Jree Desiree (Sew Much Jazz) made the Girl's Allison Tent Dress for this event. You can get the pattern for free during the month of September using the code PDAG22. Don't miss out on making this special dress. Click here to get the pattern. You can catch the tutorial for the dress on YouTube at Mari Sews on September 2.
Sirena Patterns Rainbow Tshirt Dress
Tommie from Sirena Patterns is doing a live tutorial Monday, September 5, on how to make a tshirt dress with a woven bottom. This tutorial will be in Spanish but is easy to follow along for those who do not speak the language.
Thoughtful Creativity A-Line PDAG Dress
Alisa designed a new dress this year! This cute dress has shoulder ties, cute inseam pockets and doesn't take much fabric at all. It's a great stash buster and you can catch the tutorial and pattern on her channel Friday, September 9.
How Do I Get Involved?
Check out the Project Dress A Girl Kick Off video (YouTube at Mari Sews) September 1 for the fun details on the event and follow me and all of the Influencers on YouTube who will be sharing their makes.
Gather your pattern, labels and supplies, and put those superpowers to work all September long. If you need a label, you can purchase one here. All proceeds will be used for expenses associated with Project Dress a Girl. Any money not used, will be donated to Hope 4 Women International for Dress a Girl Around the World. 
Post your finished dress on Instagram no later than September 30 using #ProjectDressAGirl2022 and tag me @marisewsforcurves. Dresses will be counted by pictures posted to Instagram. If you aren't on Instagram, send me an email with your dress total to contactmarisews@gmail.com
Send your dress in for donation the first week of October.  Send them to the nearest ambassador (list of participating ambassadors are listed the end of this post) or you can send them to me for a live unboxing at:
Mari de Jesus
P.O. Box 404
Gaithersburg, MD 20884 USA
What are the Dress Guidelines?
Dress Details:
Use a pullover dress pattern, with pockets (or add pockets). Great patterns include the Girl's Allison Tent Dress by Jree Desiree, the Rainbow Tshirt Dress by Sirena Patterns, and the A-line Dress by Thoughtful Creativity.
Use sturdy, natural materials like cotton or linen. No country-specific fabric such as flags, holiday themes, cartoons, or fabrics with words.
If your fabric is on the sheer side or if it is questionable, consider lining it to solve the problem. Do not use pillow cases.
Avoid fasteners such as zippers, velcro, buttons and ribbons. Ribbons untie pretty easily, so please use bias tape or fabric ties in lieu of ribbons as a fastener.
Above all else, have fun!
Who Is Participating & Who Should I Follow?
Ambassadors Around the World
The following ambassadors have agreed to receive dresses from Project Dress a Girl 2022. If you'd like to send your dresses directly to any of the amazing ambassadors listed below, please reach out to them for a mailing address. Don't forget to post your pictures to Instagram before sending them off so that the pictures can be included in the Results video on October 2. 
Canada 
Due to lack of a Dress A Girl Around the World Ambassador, dresses donated in Canada will be donated to Ukranian Refugees and can be sent to the following.
Shari Knight
c/o Menzfabrics.ca
PO Box 51
Debert, Nova Scotia
B0M 1GO
Canada
United Kingdom
Jacqui - 
jacqui-dressagirl@outlook.com
United States
Arizona:
RoseAnne - dagphoenix@gmail.com
Carol - dressagirltucson@gmail.com
California: Suzanne - suzbeck@yahoo.com
Florida: Cindy - dressagirlsouthjax@yahoo.com
Iowa: Rachel - Rachel@h4wi.org
Maryland: Marissa - dagmd@yahoo.com
Nevada: Kay - kmcoddington@cox.net
Ohio: Karen - kheath98@gmail.com
Oregon/Washington: Pearl - dressagirlpearl@gmail.com